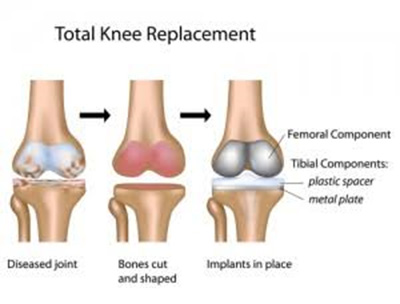 Knee replacement is a common, major orthopaedic operation carried out for osteoarthritis (OA ) of the Knee. When the conservative treatment for OA of the knee fails, knee replacement is a reasonable option if the patient is within the correct age bracket. In general, orthopaedic surgeons would prefer not to replace the knee joint in people younger than 55 years of age.
What is replaced?

Diseased Articular surface of the knee joint is replaced with a highly polished metal Cap on the femur side, and a metal Base- plate with a high-density polyethylene disk on the tibia surface.

How is the metal fixed to the bone?

Usually a grout called bone cement is used.

What is the aim of the operation?

The goal of replacement of the diseased joint is to relieve the chronic-pain and restore the functioning of the knee joint.

How long will I be in the hospital?

If your mobility has been good before the operation, you will stay usually for 3 to 4 days.

How long will it take to return to normality?

Usually it takes between three to six months to return to normality. Studies show ongoing improvement up to 12 months after a knee replacement.

What are the main risks of an operation?

According to the American Academy of Orthopaedic Surgeons (AAOS), serious complications occur in less than 2percent of cases. It's still important to be aware of the risks before you enter the operating room.

Like any other major operation, knee replacement carries risk to life; though this risk is very small, it is significant because one(1) in 400 people die during, or immediately (30 day mortality), after knee replacement.

Most deaths related to joint replacements are due to heart attacks with pre-existing heart conditions, and a further number are due to blood clots (DVT) and clots lodged in the lungs (Pulmonary Embolism)

Infection of the replaced knee is a very serious complication and is estimated to happen in around 1 per hundred operations.

A 'revision procedure' may be required for many reasons, including:

Large bleeding in to the joint
Infection
Continued pain
Stiffness of knee
Long term wear of polyethylene
Instability
Loosening of the implant or mechanical components

What is the success rate for a knee replacement?

Australian joint replacement registry shows that 90% of knee replacements survive 10 years.